Every Roald Dahl Series & Movie Coming Soon to Netflix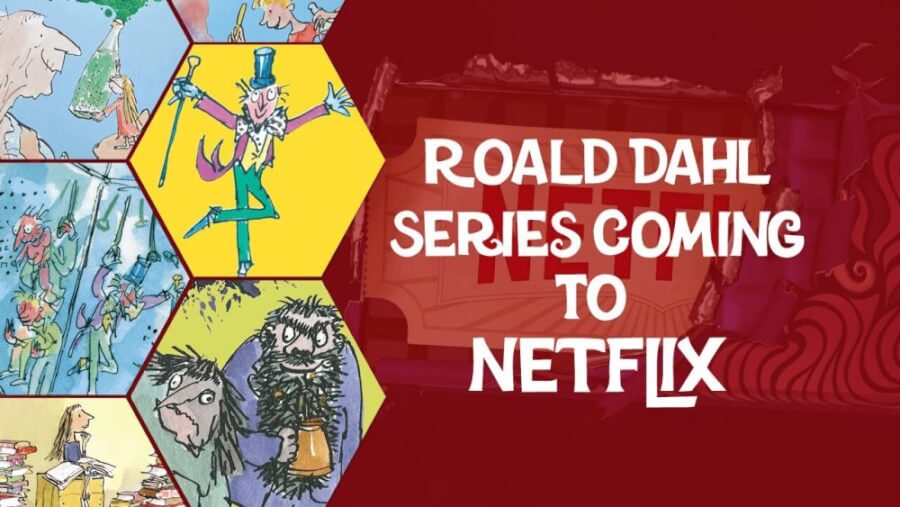 Netflix is all-in on Roald Dahl. Not only have they expanded on their initial deal to bring Dahl's works to life on Netflix, but they also purchased the Roald Dahl Story Company in 2021 for a deal work more than £500 million. A number of projects are already underway so let's take a look at every Roald Dahl series & movie coming soon to Netflix.
As we mentioned, Netflix initially signed a deal in November 2018 to work with the Roald Dahl Company on new projects which included the initial projects listed below but have yet to release.
Almost three years later, Netflix went a step further by purchasing the entire company and its library of IP. The company is going to act autonomously within the overall Netflix business.
Born in Llandaff, Cardiff, Roald Dahl was the son of Norwegian immigrant parents. The acclaimed author served in the RAF in WW2 and later worked on propaganda pieces. Despite writing many short adult stories, Dhal will forever be known as a beloved children's author, which started with Gremlins in 1943 and ended with The Minpins in 1991.
For a full detailed account of his life, you can find it here.
---
Confirmed Roald Dahl Projects Coming to Netflix
Charlie and the Chocolate Factory
First Published: 17th January 1964
On-Screen Adaptations: 2
Netflix Release Date: TBA
Unsurprisingly, Charlie and the Chocolate Factory is one of the first of the Road Dahl projects to get underway at Netflix. It took just over 16 months for the announcement but we now have confirmation that Thor: Ragnarok and Jojo Rabbit director, Taika Waititi, will write, direct, and executive produce both Charlie and the Chocolate Factory, and Charlie and the Great Glass Elevator.
The beloved children's novel was first published in 1964, making it almost 60 years old! Another mind-blower is the beloved classic adaptation, Willy Wonka and the Chocolate Factory, starring Gene Wilder, is almost 50 years old and will be celebrating its 50th anniversary on the 12th of August, 2021. Whatever Taika Waititi and Netflix have planned for Charlie and the Chocolate Factory, we're certain it will be scrumdiddlyumptious.
Upon finding one of five sought-after golden tickets, Charlie Bucket is invited to take a grand tour of the world-famous Willy Wonka factory. Accompanied by his Grandpa Joe, Charlie is also joined by four other children, whose habits and mannerisms are far from delightful. What's inside the factory will change Charlie's life forever.
---
Charlie and the Great Glass Elevator
First published: 1972
On-Screen Adaptations: 0
Netflix Release Date: TBA
Taika Waititi will also be responsible for the very first on-screen adaptation of Charlie and the Great Glass Elevator. Despite the fact that the beloved children's novel is almost 50 years old, no one has taken on the project until now. Just like Charlie and the Chocolate Factory, the sequel, Charlie and the Great Glass Elevator will be written, directed and executive produced by Taika Waititi. The plot is far more outlandish than its predecessor, but if there's anyone who can take on the bizarre and zany story and smash it out of the park, it must be Taika Waititi.
After launching into the sky with the Great Glass Elevator, Willy Wonka, Charlie, and Grandpa Joe arrive at Space Hotel USA. The trio is mistaken for spies by approaching astronauts and the President of the United States. However, shortly after their arrival, they discover that the hotel has been taken over by dangerous, shape-shifting alien monsters known as The Vermicious Knids.
---
Matilda
First Published: 1st October 1988
On-Screen Adaptations: 1
Netflix Release Date: December 2022
The 1996 film Matilda is often remembered fondly by all those that were growing up during the 90s, and suffice to say is still enjoyed by plenty of children to this day. As the story of Matilda is held deeply in the hearts of many, Netflix will certainly need to capture the magic of the novel with its intended animated adaptation. We're still waiting on confirmation on who will lead the project, but we suspect we'll learn more soon.
We do have confirmation that a live-action musical of the children's novel is also coming to Netflix in the near future. The film will be an adaptation of the Tony Award-winning musical of the same name by Tim Minchin. Matthew Warchus will be directing the film.
Fans needn't worry, you'll be receiving a double dose of Matilda as the animated adaptation will still be happening on Netflix.
Matilda, a young, gifted and incredibly intelligent five-and-a-half-year-old, struggles with the stupidity of her family. At school, Matilda makes friends with the lovely Miss Honey and is finally able to show her intellectual prowess. Unfortunately, the school is run by the tyrannical Miss Trunchbull who takes pride in giving harsh punishments to the students. When Matilda develops telekinetic powers, she enlists the help of Miss Honey as they work together to stop Miss Trunchbull.
---
The Twits
First Published: 1980
On-Screen Adaptations: 0
Netflix Release Date: TBA
There were plans for many years to produce a feature film for The Twits, but the project was abandoned around 2012.
John Cleese was set to write the script, along with Kirk De Micco. Disney would have been producing the film alongside the animation studio Vanguard Film & Animation. With the project seemingly abandoned, it looks like Netflix will provide the very first on-screen adaptation for the beloved children's novel.
Mr. and Mrs. Twit, two retired circus trainers, are the nastiest and ugliest pair around, constantly pranking each other, each nastier than the last. From training a poor family of monkeys, the Muggle-Wumps, to capturing birds for their pies with superglue, the Twits are incredibly fiendish. When the family of monkeys is visited by the Roly-Poly bird, they devise a plan with their visitor to take down the Twits for good.
In July 2021, we first reported that the project was moving forward and had boarded Wreck-it Ralph writer, Phil Johnston, to join the project which is set to be a limited series.
---
Potential Netflix Projects Coming in the Future
The BFG
First Published: 1982
On-Screen Adaptations: 2
Netflix Release Date: TBA

There have been 2 on-screen adaptations for the BFG, with the original 1989 animation looked upon far more favorably than Steven Speilberg's attempt in 2016. The loveable Big Friendly Giant is one of Roald Dahl's most famous and beloved characters, so Netflix has to make sure the animation and the voice of the BFG are perfect. We'd welcome the return of David Jason to provide the voice of BFG, as he did it perfectly in ITV's 1989 animated feature.
Sophie, orphaned after the death of her parents, was lying in bed at night, unable to sleep. Upon seeing a strange sight in the streets, a giant man, carrying a giant bag and a giant trumpet, Sophie is whisked away by the mysterious figure. Revealing himself to be a giant, he introduces himself as BFG, short for Big Friendly Giant. Unlike other man-eating giants, BFG lives off disgusting snozzcumbers and spends his time capturing dreams.
---
The remaining novels likely to be adapted by Netflix are as follows:
George's Marvellous Medicine (1981)
Boy, Tales of Childhood (1984)
Going Solo (1986)
The Enormous Crocodile (1978)
The Giraffe and the Pelly and Me (1985)
Henry Sugar (1977)
Billy and the Minpins (1991)
The Magic Finger (1966)
Esio Trot (1990)
Dirty Beasts (1983)
Rhyme Stew (1989)
Why aren't all of Roald Dahl's children's novels being adapted
To put it simply, Netflix doesn't have the license to adapt all of the novels from Roald Dahl's bibliography. This is because some of the missing titles, such as Fantastic Mr. Fox, are licensed by other companies. Using the aforementioned Fantastic Mr. Fox, the previous adaptation for the novel was produced by 20th Century Fox in 2009. With Disney's acquisition of 20th Century Fox, it can be presumed that Disney now holds the license.
Other missing titles are:
Danny, Champion of the World
Gremlins
James and the Giant Peach
The Magic Finger
The Witches
The Vicar of Nibbleswicke
---
Which Roald Dahl animated series are you looking forward to most on Netflix? Let us know in the comments below.
The most awaited movie of 2021: KGF Chapter 2
The most awaited movie of 2021: KGF Chapter 2
KGF Chapter 2 is one of the blockbuster movies of 2018. This movie was directed by Prashanth Neel. All the fans of KGF are waiting for movie's release. Here is some good news for people who are waiting for the movie.
As we know that the movie KGF Chapter 2 is a sequel of the marvelous movie KGF Chapter 1. The movie KGF Chapter 1 is a period movie set in the late '70s. The previous Movie KGF Chapter 1 features an amazing cast Yash, Srinidhi Shetty, Anant Nag, Ramachandra Raju, and many more.
MOVIE INFORMATION
About Movie: KGF Chapter 2
As we all know that this movie is a sequel of KGF Chapter 2. Yash has played an amazing role in his Movie KGF Chapter 1. And, now he's coming on screen with the upcoming sequel of KGF Chapter 2.
Unfolds in story: KGF Chapter 2 Rocky
KGF Chapter 2 unfolds many questions like why 0the president ordered to kill of rocky?, who will lead the KGF(Kolar goldfield)?, will rocky helps the people to get a better life and many more.
The two-part fictional action movie traces the journey of India's most horrific crimes, Rocky. After losing his mother. At a very young age, he learned to fight for himself. Moreover, Raja Krishnappa Bairya aka rocky changed his name and came to Mumbai. At a very early age to poverty and sickness, Rocky develops the power to fight for his right.
Starring and more
While the first film predominantly featured actors from the Kannada film industry, the sequel will boast some Bollywood stars in significant roles. While the first film KGF Chapter 1 featured Kannada film industry actors. In this new sequel of KGF, Some Bollywood stars will be seen in the movie.
In this movie, Sanjay Dutt plays the role of the main antagonist Adhere. However, Sanjay dutt also mentioned that he was for such kind of character to play. As we know that the Character of Adheera came in the end of KGF Chapter 1. But, The character of Adheera in KGF is very powerful character.
The original Kannada film KGF Chapter 2 will simultaneously be released many languages such as Tamil, Telugu, Malayalam and Hindi.
Trivia
The movie directed by Prashanth is full of action and thriller. In addition, in KGF Chapter 2 it has some emotional parts also. Which will make the movie more interesting. The movie is about rocky, who fights for himself after the death of his mother. Rocky made his promise come true to her mother.
On the other hand, Rocky killed Gadura for KGF. Now the other three partners of KGF trying to get a lead on KGF. But, Rocky is a very tough competition for them. Therefore, It will be so much fun to see who will lead to KGF.
Will Rocky die?
As we have seen in the trailer Rocky has to face many problems to lead the KGF. So the main question arises will Adheera lead the KGF or Rocky? Will rocky die as a rich man, or he will be the savior for the people working in KGF. Movie is full of questions and leads to be the blockbuster again. There is no doubt about it.
Conclusion
In Conclusion, we only can say that Rocky has made his mother's promise come true. He became a rich man and leads to KGF. To know more about Rocky we have to watch this amazing movie released on 16 July 2021.
KGF Chapter 2 2021 Full Movie trailer
KGF Chapter 2 2021 FMovie
Piracy of any original content is a punishable offense under Indian law. www.automobile4.com completely opposes this type of piracy. The content shown here is only to provide you with the necessary information about illegal activities. Its purpose is never at all to encourage piracy and immoral acts in any way. Please stay away from such website and choose the right path to download the movie.
Netflix's 'Extraction 2': Filming Ends & Everything We Know So Far
Netflix's biggest movie to date, Extraction, is returning with a sequel! Chris Hemsworth will be returning to reprise his role as Tyler Rake, and filming is already over. Below we'll be keeping track of everything you need to know about Extraction 2, including casting news, production updates, trailers, and the Netflix release date.
As Netflix's most successful Original movie ever, it shouldn't come as a surprise that a sequel would be in the works. With over 99 million households tuning in to stream the movie, it even outshone the likes of Bird Box, Murder Mystery, and 6 Underground.
Sam Hargrave will return to direct the sequel, along with the Russo Brothers who are executive producers on the movie. However, only Joe Russo is credited with writing the story.
What is the production status of Extraction 2?
Official Production Status: Post-Production (Last Updated: 21/03/2022)
Extraction 2 was originally scheduled to begin filming in Sydney, Australia but due to Covid restrictions production was moved to Prague, Czech Republic.
Chris Hemsworth also confirmed on his Instagram account that filming would begin in late November 2021.
As of March 19th, 2022, filming on Extraction has come to an end and is now currently in post-production.

---
What is the plot of Extraction 2?
After barely surviving his grievous wounds from his mission in Dhaka, Bangladesh, Tyler Rake is back, and his team is ready to take on their next mission. Tasked with extracting a family who is at the mercy of a Georgian gangster, Tyler infiltrates one of the world's deadliest prisons in order to save them. But when the extraction gets hot, and the gangster dies in the heat of battle, his equally ruthless brother tracks down Rake and his team to Sydney, in order to get revenge.
---
Who are the cast members of Extraction 2?
When the sequel for Extraction was announced it was confirmed that Chris Hemsworth would be returning to reprise his role as Tyler Rake.

Chris Hemsworth (right) as Tyler Rake in Extraction (2020)
It has also been confirmed that actor Adam Bessa (Mosul), will be returning to reprise his role as Yaz. Meanwhile, actress Rayna Campbell (Maleficent: Misstress of Evil) who previously starred in Extraction as a radio tech of Nik's crew has now been given the named role of Ruthie.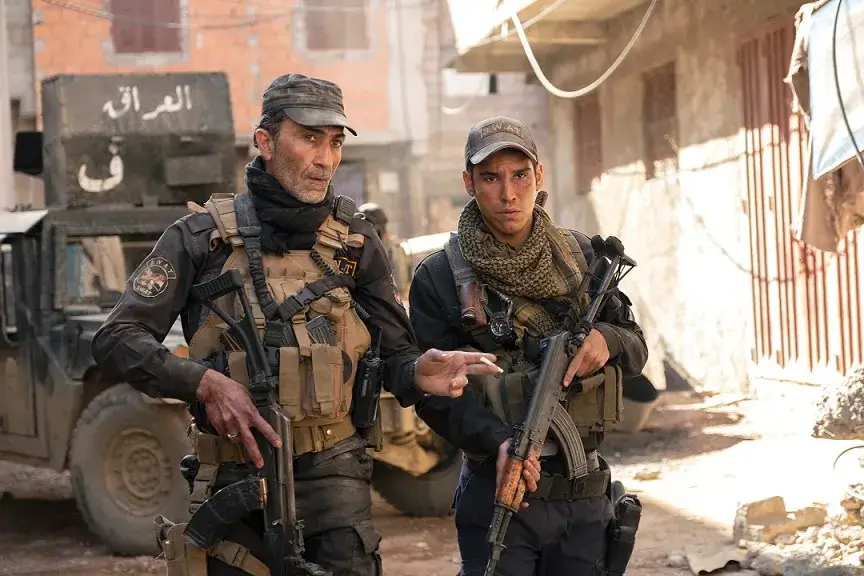 Georgian model and actress Tinatin Dalakishivili joins the cast as Ketevan. Producer and actor Patrick Newall previously starred in an unnamed mercenary role in Extraction, will now play the role of Seb.
Dato Bakhtadze (Wanted) will play the role of Avtandil.
---
When is Extraction 2 coming to Netflix?
With the film now in post-production, we could be waiting several months before the Netflix release.
One of Netflix's big-budget summer releases is The Gray Man, which means there will be less pressure for Extraction 2 to fill what was previously a blockbuster-less Summer.
We're still waiting for Netflix to confirm the release date, but we expect Extraction 2 to drop in the latter half of 2022, most likely in the Fall.
---
Are you looking forward to the release of Extraction 2 on Netflix? Let us know in the comments below!
Money Heist 'Berlin' Netflix Series: What We Know So Far
Money Heist (La Casa De Papel), one of Netflix's biggest shows to date, is over but we're not quite done with the franchise just yet. Not only are we getting a new South Korean version of the Spanish series, but we're also getting a full-fledged spin-off with the fan-favorite character, Berlin. Here's what we know so far about the upcoming spin-off series due to release in 2023.
A spin-off was long rumored as we came ever closer to the final season that touched down on Netflix in two parts in 2021. Alex Pina, the creator of Money Heist, had teased numerous times of the possibility of expanding further into characters introduced in the mothership series.
Before Berlin was officially unveiled, Alex Pina (the creator of Money Heist) told Oprah Daily he was open to a spin-off saying:
"We do have many possibilities for some spinoffs, yes, and I think that's thanks to the strong and powerful identities of the characters. We've always looked for characters to have a very complex, layered design. So I think almost every character of Money Heist has a duality that we would like to see in a spinoff. We could watch any of them in other contexts."
Netflix officially unveiled the new season in late November 2021 just days before season 5 part 2 arrived on Netflix.
Alongside the announcement of the series, we got a very brief tease about the upcoming spinoff alongside the caption (translated to English):
"We already met Berlin in#LaCasaDePapeland now is the time for Andrés de Fonollosa. We can already announce that in 2023 the spin off of his life will arrive."
---
Who's behind and who will star on Berlin on Netflix?
Alex Pina will be returning to write the show. He'll be working through his production company Vancouver Media. Atresmedia are also listed among the production companies.
Pina struck an overall deal with Netflix back in July 2018 and renewed that deal in March 2022.
---
What will Berlin be about?
Well, as the title suggests, we'll be focused on the titular character of Berlin also known as Andrés de Fonollosa.
It's not set after Money Heist (the character
There's still a lot we don't know about Berlin despite his backstory being explored in season 5. Including the fact, there are 5 ex-wives including Tatiana (played by Diana Gómez). He'd described his relationships in the series as the "5 times that he believed in love."
Given Berlin is, in fact, brothers with The Professor, it's highly likely we'll explore their early years together. We also don't have a huge amount of information with regards to their father dying or how he met Palermo (another lover of Berlin), Marsella, and Bogotá.
We may also get to see more of the heist Berlin made in Champs-Élysées, Paris where he stole 434 diamonds. We also may get to see more of his battle with Helmer's Myopathy.
---
Who will star in Netflix's Berlin series?
So far, only the 49-year-old actor Pedro Alonso has been confirmed for the new series.
Given the show is likely to explore the back story, we can make a few educated guesses as to who will star.
Our guesses as to which characters may feature include:
Rodrigo de la Serna as Palermo
Álvaro Morte as El Profesor
Diana Gómez as Tatiana
---
When will Berlin be in production?
No filming dates have been announced as of yet. With that said, it'll have to be filmed throughout 2022 given the 2023 release.
---
Beyond the Berlin series, we'd recommend you check out Pina's other work on Netflix including Sky Rojo (season 3 coming in 2022) and he'll also be doing a new pandemic-era series based on a Spanish newspaper article about the increase in purchasing bunkers.
Until the release of Berlin, you'll find Pedro Alonso in his upcoming movie Awareness set to release on Amazon Prime Video. Most regions of Netflix are also carrying his 2019 movie The Silence of the Marsh (2019).
Are you looking forward to the new Berlin spin-off? Let us know in the comments down below.